true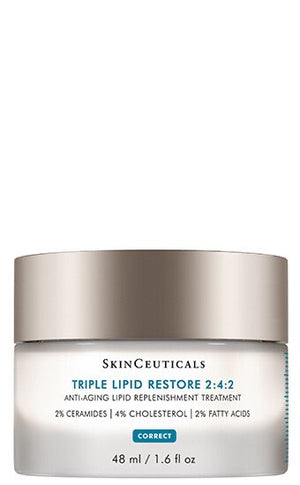 TRIPLE LIPID RESTORE 2:4:2
SkinCeuticals
A patented anti-aging cream to refill cellular lipids and nourish dry skin. U.S. Patent No. 10,137,073.

SKIN TYPES: Dry, Normal, Oily, Combination, Sensitive
SKIN CONDITION: Dehydrated, Aging
2% Pure Ceramides 1 & 3
Part of a larger family of ceramides, and proven to synergistically increase hydration and optimal barrier function
4% Natural Cholesterol
Proven to accelerate barrier recovery in aging skin to improve the appearance of radiance and skin fullness
2% Fatty Acids
Aids in structural integrity of skin lipids to optimize skin's overall lipid balance and improve skin elasticity
Essential oil blend
Combination of lavender, rosemary, and peppermint oil for a cooling, nourishing feeling
Apply a small amount between fingertips, warm and melt the cream in circular motions. Apply once or twice daily to face, neck, and chest. If using in the morning, apply after a SkinCeuticals vitamin C antioxidant serum and before a SkinCeuticals sunscreen. If using with a retinol at night, apply after retinol application.