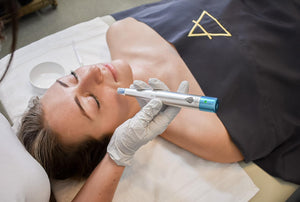 MICRO VS. NANONEEDLING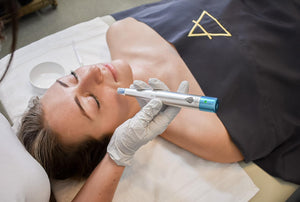 The main difference between the two is the depth that the needles are able to penetrate into the skin. Nano-needling only punctures the first layer of the skin (epidermis) while micro-needling penetrates into the deep dermis.
Microneedling
Medical procedure

Creates micro-injuries for a wound healing response

Treats through the epidermis down to the deep dermis

Needle depth from 0.25 to 1.5mm

Numbing cream required

24-48 hour downtime
Nanoneedling
Cosmetic facial

Infuses active serums through tiny nanochannels for increased effectiveness

Treats in upper layers of the epidermis

Microscopic silicone tips; 1/3 thickness of hair

No numbing, downtime, or pain
Microneedling
This procedure uses an actual needle cartridge with 14 fine needles that can be adjusted to different depths. The micro-injuries caused by the procedure stimulate the body's natural healing process, increasing collagen and elastin production to promote skin rejuvenation. These treatments can be done monthly. 
Nanoneedling 
Nanoneedling uses the same type of oscillating motion to treat the skin but the cartridge encompasses mono-crystalline silicone tips. ​These microscopic hair-like cones separate the cells within the epidermis to allow active serum infusion resulting in an immediate glow with NO downtime. This treatment can also be done as often as 10-14 days.
Which Treatment is Best for What Skin Condition?
Nano and Microneedling have their place in skin rejuvenation for almost every client and they treat many of the same skin conditions. Both treatments will have a positive effect in reducing the appearance of fine lines, improving skin tone and texture, minimizing the appearance of pores, reducing pigmentation, or helping to clear acne and acne scars. Both procedures have the ability to transform the look and feel of your skin!
When it comes to deeper acne scars and wrinkles the deeper micro- injuries associated with microneedling would be the best choice. 
NEW Golden Glow $150 (60 mins)
Restore youthfulness + radiance with our Rezenerate infusion facial. Featuring noninvasive nanoneedling & cooling "zen" acupressure massage – this advanced facial is designed to improve skin health and increase product + nutrient penetration for enhanced results.
Nanoneedling is also available as an add on to enhance any facial of your choice.
$50 (15 mins)
Nanoneedling works wonders on:
Fine lines & other signs of aging 

Blemishes or other skin imperfections 

Malnourished skin 

Sunspots & age spots 

Oily or over dry skin 

Uneven skin tone & texture
Golden Glow Facial is right for you if:
You are not a candidate for more invasive treatments

You are concerned about painful treatments/numbing

Results with little downtime  

You want to maintain healthy, vibrant skin



Contraindications:
Avoid topical acids, retinoids, benzoyl peroxide for 24-48 hrs

Accutane

Inflamed skin

Sunburnt or blistered skin

Active blemishes

Severely barrier compromised/chapped skin

Active viral, bacterial, or fungal infections

Waxing not recommended with nano needling, avoid waxed areas. 

Men avoid shaving 1-2 hours prior