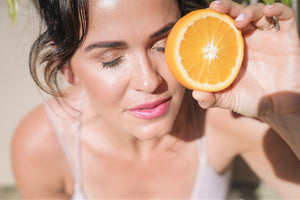 Vitamin C: the superhero product everyone needs in their home care routine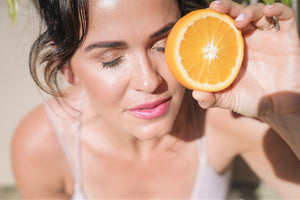 Vitamin C is one of the most potent ingredients found in our skincare products. Its superpowers include brightening + evening skin tone, reducing redness + inflammation and softening fine lines + wrinkles.
Also known as ascorbic acid, vitamin C is a powerful antioxidant necessary for the growth, development and repair of tissue throughout the body. In our skin, that tissue is collagen. While we know collagen as the key to youthful-looking skin, it is important to note that it is a naturally occurring protein that can deplete over time and lead to the appearance of fine lines + wrinkles. Vitamin C helps to prevent that depletion that happens as we age, while also stimulating collagen production.
Even more, Vitamin C provides antioxidant protection from ultraviolet rays and oxidative stress that is essential to our overall skin health. It acts as a booster to SPF by reducing free radical damage and preventing signs of aging. To see this in action watch the video HERE demonstrating how vitamin C protects the skin by neutralizing free radicals that cause skin damage + premature aging.
*Iodine is a free radical representing pollution and UV rays. When Citrus & Kale Potent C + E Serum is added it completely neutralizes the free radicals as they weren't even there. 
Incorporating vitamin C into our daily routine is extremely important because we cannot produce vitamin C naturally – we must ingest it or apply it topically for our skin to reap the benefits. We recommend using vitamin C in the form of a serum because serums have highly concentrated active ingredients made up of smaller molecules that can penetrate more deeply into the skin.
Our favorite Vitamin C serums:
Eminence Citrus & Kale Potent C+E Serum
Fast-absorbing, advanced serum for all skin types. This potent dose of non-irritating Vitamin C is stabilized by botanically-derived ferulic acid to deliver optimal antioxidant benefits and improve the appearance of skin.
Eminence Rosehip Triple C+E Firming Oil
The Rosehip Triple C+E Firming Oil is an effective facial treatment comprised of a blend of results-oriented actives and ingredients that provide intense hydration and protection. Designed as a complementary product to the
Citrus & Kale Potent C+E Serum
, this facial oil fights the signs of aging, smooths wrinkles and hydrates deeply. For use with all skin types.