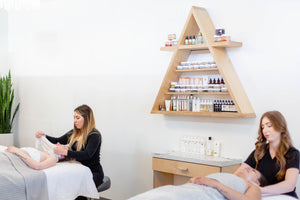 customize your monthly facial! 🤍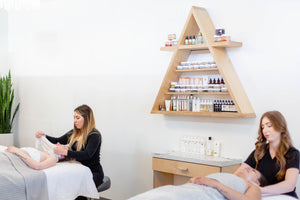 Our experience at Alchemy Face Bar is designed to intuitively offer a customized treatment service for our clients. Part of the magic of our facials is the customization and personalization we are able to offer. We love creating treatment plans and routines for your skin type, but as we know it - our skin goes through cycles and may deal with some ups and downs (hello, monthly hormonal breakouts). 
It's easy to confuse hormonal breakouts as an acne skin type, but these breakouts may only be a temporary skin concern. So, what is the difference?
Your skin type is something you are born with and largely determined by pore size; whereas a skin concern is temporary and usually caused by outside factors. 
The good news is skin concerns are temporary and can be treated! Now, let us introduce our magical facial enhancements. 
What are facial enhancements?
As we said earlier, our facials are magical because they can be customized and personalized for you! Our facials are buildable and you can add on facial enhancements to treat any specific concerns you may be having. We have 16 amazing facial enhancements that treat skin concerns varying from congested pores to hyperpigmentation.
See a full list of our facial enhancements and skin concerns treated on our facial menu page. 
When you are coming in for your monthly facial (because monthly self-care is important!) and dealing with a pesky breakout - speak with your Alchemist about your skin concern you are having. Our estheticians are trained to guide you through what is best for your skin.
Most of our facials already have built-in facial enhancements (i.e. ultrasonic is part of our Blackberry Detox) which is amazing because you can enjoy the benefits of our enhancements within a facial.
A small bonus: most of our facial enhancements not only help your skin, but they are also so relaxing. 
So the next time, you are either dealing with a hormonal breakout or dealing with congestion from traveling - come on in for your monthly facial and enjoy the magic and benefits of our facial enhancements. 
Comment your fav enhancement or one you would LOVE to try! ✨